Custom Website Design Services
We're a full-service digital marketing agency specializing in personalized websites. Whether you're incorporating video production or social media strategies into your website, our goal is to provide you with a website that generates sales!
Make A Lasting Impression With Top-Notch Web Design
First impressions can make or break your online conversion rate.
They say it takes 0.05 seconds for a person to form an opinion about a website based on visuals alone – that's what makes web design such an integral part of a solid digital marketing campaign. Good design is an invitation into your website. Bad design, on the other hand, gets people running in the opposite direction.
Step up your game with the help of our design expertise.
If you know our story, you'll know that we always root for the underdog. As a small business ourselves, we love helping out other small enterprises. We're fuelled by the belief that local businesses thrive on each others' success. So we're always looking for ways to help elevate small businesses using what we know best – digital marketing.
We employ locally too! Based in Texas, we primarily recruit web designers in Dallas and Fort Worth, TX. It's all about spreading the love and giving back to the community.
To get visitors to your site, you need to perform well on search engine rankings. On top of our regular website design services, we also make sure every possible corner of your website is search engine optimized. That means we don't just build you a pretty home online, we make sure it's got a place on the map that's big enough for everyone to see.
We like to sit down and get to know our clients before getting started on a web design project. This way, we can get to the heart and soul of what they do, and try to incorporate that into their sites. Well-designed websites are a dime a dozen on the internet, but nothing beats a site that's authentic and consistently on-brand. We only offer 100 percent fresh and organic websites – that's a guarantee from us.
They say that the best design is invisible. This means no bells and whistles, no long-winded copy. In our web design practice, we always strive to achieve a straightforward layout, intuitive navigation, and concise, direct copy. It's simpler for you and your customers!

Original WordPress Website Design
Over 27 percent of all websites in the world are powered by WordPress. It's trusted by digital marketing and web design agencies around the world – and for good reason. From its easy-to-navigate CMS to its over 50,000 plugins, WordPress makes it super easy to build and maintain a website. By working with WordPress, we can allot more of your time and money towards things like SEO, branding, and video production.
Website Development & Hosting
Not into WordPress? As a full-service digital marketing and web design agency, we can also build you a website from the ground up, coding with HTML or Javascript.
We're keen on creating clean, user-centric sites that are a no-brainer to navigate and maintain. Yes, that includes mobile-responsive or adaptive design.
Search Engine Optimization
Apart from your website design, SEO is arguably one of the most important things a digital marketing and web design agency should focus on. Think of web design and SEO as two halves of the same coin. An optimized website ranks, and a high-ranking website attracts more visitors. At #2M, we live and breathe SEO. From your site's content to its code, we'll make sure your site is armed to the teeth to rank on search engines.
Website Security & Maintenance
For us, website design isn't a "set it and forget it" type of thing. Our job doesn't stop once the site has been launched! We understand that our clients will likely be too busy to do regular checkups on their sites, so we stick around to keep a keen eye on site security and maintenance. That means weekly and monthly sweeps to update plugins and software, backup data, and fix broken links or forms. We also clean up your site from spam, malware, and anything else bogging it down.
Consultation
Not every web design and marketing agency will take the time to get to know their clients. But a successful digital marketing campaign hinges on having clear-cut goals and a consistent brand identity. By truly understanding our client's business needs, we create actionable goals that actually move the business forward.

Strategy & Design
Once we have the big picture, we come up with initial visual pegs and layouts, then have another sit down with our clients to make sure we're on track. We offer a couple of different options until we really hit the nail on the head.

Review
Our clients always have the final say. We're here to offer our professional advice and our web design services – not to impose what we think would look good on our portfolio. We don't move forward until we're sure our clients are 100 percent happy with the direction we're taking their web design, and we'll be more than willing to offer a few tweaks to get it just right.

Coding
For our non-WordPress websites, we code from start to finish, making sure all the elements come together in a cohesive way. We also make sure that your website is targeted to succeed locally in your area using SEO – that way, our web design is always built by and utilizing local trends and competition.
Testing & Launch
We never launch a product without assuring absolute perfection. Our programmers and designers take the time to test every last element on your site to make sure it's intuitive, responsive, and navigable.

Maintenance
Like we said, our work doesn't end after launch. We're always just an email or a call away should anything come up. And we make sure things never go sideways by conducting weekly, monthly, and quarterly site maintenance.
01
Social Media Marketing.
We do more than just web design for the horse industry. We're also social media marketing experts who can help you capture the local market with consistent and reliable digital content. Learn more about our social media marketing services here.
02
Personalized Websites And Web Development
With #2M Marketing, we offer dedicated service and custom web designs. We're a digital marketing company that's tapped into what's hot and what's not in the local community.
Are you a small business, real estate agent or horse services provider in need of a major website overhaul? Get in touch today!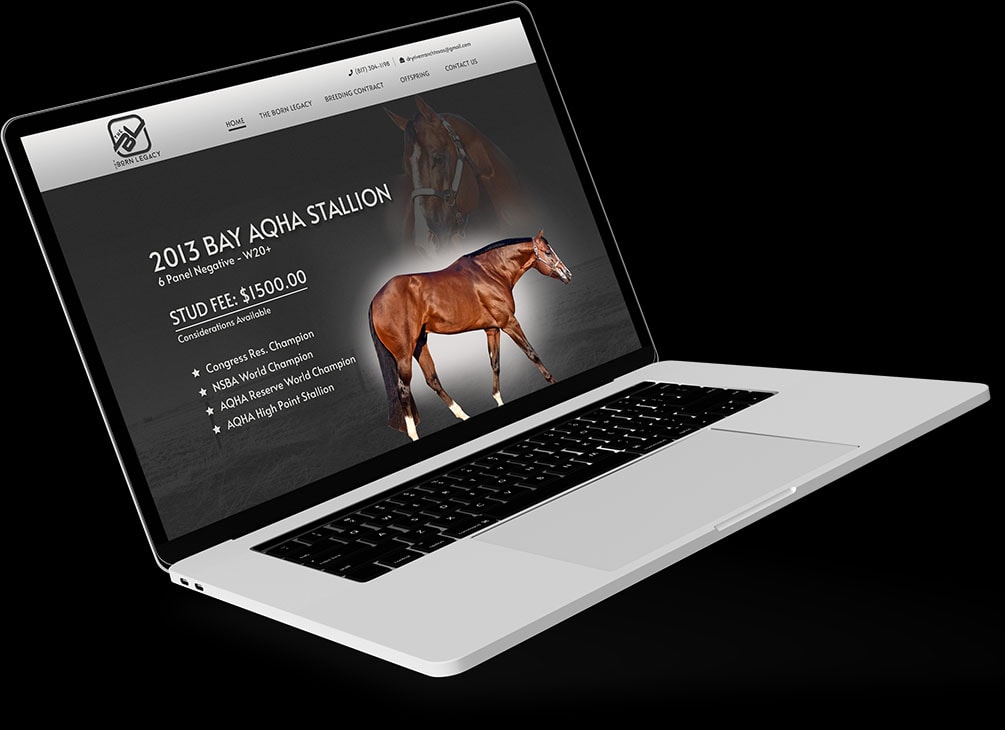 We like to get to know you and make your marketing fit you and your business.
In today's digital landscape, online marketing has become an integral part of running a business! If you're branding is weak, you're losing out on thousands of potential customers. Based in Texas, Miracle Man Marketing #2m aims to revolutionize your online presence. We offer a myriad of services that cover everything from web design to social media campaigns. Our ultimate goal is to boost your customer base and increase company profits. Want to learn more about how we can help your brand flourish?