Denton Texas Web Design
Perfect your website's first impression with top-notch web design
With 75% of online visitors judging your website by its design, Denton web design services are essential for your business. Giving an impressive design to your website requires proficient web designers, well-thought out design strategy, and experience.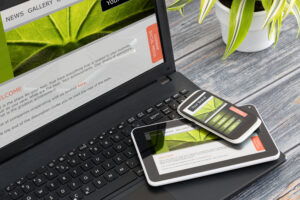 Why web design matters?
A website, for the most part, is a visual experience. When your visitor is using a mobile device to explore your website, design becomes even more important. User experience depends on how well your website is designed, the arrangement of navigation, and the visual presentation of content on the website.
If you're a Denton business looking for high-quality web design, you need to contact expert Denton web designers to see who is a good fit to develop your new website.
Here are some reasons why web design matters.
First impressions
Chances are your audience will end up on your website through a search result. It might indicate that they landed on your site because of its content. There's no denying that impactful SEO content improves your site's ranking in SERPs, but, does the website have the potential to impress your customer? Imagine doing all the hard work to produce top-notch content and getting no audience retention on your site. Terrible! Isn't it?
The design of your website dictates whether your users feel comfortable to easily explore your site or not. Confusing and cluttered web design gives a poor user experience, so keep in mind that the overall look and design of your website will create the first impression.
The bottom line is your website is an important marketing asset of your brand. If you want it to promote your brand and deliver a strong user experience, then consider giving a professional & visually appealing design to your site. For that, you need professional web design services.
User experience
Now that your website has given a great first impression, it's time to think about the user experience. Some may argue that content produces the user experience, which is true to some extent. However, it's not entirely true.
Your efforts to deliver a particular user experience depends on your goals. Depending on your goals, you'll need to give a certain kind of design to your site. Let's say you're the business owner of a lawn maintenance company and you've published a blog post about lawn fertilizing. Ideally, you would want your audience to read the article, and perform an action — comment on your post, explore your services, or book your lawn fertilizing services.
The success of websites achieving their goals hugely depends on the layout, color scheme, and navigation of your website. A poor layout, navigation, and distracting colors certainly result in failing to achieve any of the above goals.
Consistent layout, easy-to-access navigation, perfectly placed button, and professionally incorporated the rest of the design elements helps you deliver a great user experience. Any step you take to minimize the clutter on your web design takes you one step closer to achieving the goals.
Better web design, better control
A website isn't like a social media page. It's a place where you can control the experience and message you want to deliver to your audience. A thoughtful web design strategy gives you complete control over how to lead your visitors through your site.
A social media page shows you elements that need your attention. But, you can control the elements you want to show your audience. If you're a Denton business and want to deliver a certain kind of user experience through your website, you need professional Denton web design services.
The bottom line is your website design is more than just a beauty element. It's an integral part of your digital marketing strategy upon which your success relies hugely. Web design can help generate a high conversion rate, user experience, and business promotion.
Superior web design services in Denton TX
When it comes to uplifting an online business, improving your web design plays a critical role. To enhance the performance of your website through its web design, choose a professional web design company.
Here are a few considerations you need to make before you opt for a web design company in Denton TX.
Results over aesthetics
Any professional web designer can give a pretty design to your website, but an expert website design company prefers functionality, performance, and results over aesthetics. There's no denying that aesthetics matters but other elements need to be addressed too.
A professional website design company Denton will always focus on driving visitors to your website, retaining them, and delivering a targeted user experience through intuitive website design.
Personalized services
Ideally, businesses want a web design company that offers personalized services. Your brand is unique, your vision and goals are unique, and you need a web designer that can provide a personalized solution meeting your needs. To reinforce a strong first impression and deliver the perfect user experience, your website design project should feature a unique design and on all pages, stunning graphics based on your logo, and an easy to navigate home page.
Web design Denton services by a professional web designer like Miracle Man Marketing always delivers custom solutions providing greater flexibility, scalability, and branding.
Marketing experience
A website is an integral component of a brand's marketing strategy. So, you need website designers from a company who is familiar with the Denton marketing experience. Your website will be the face of your brand so ensure to put your best face forward.
The benefit of hiring a professional web design company in Denton Texas is that you'll get a website perfectly in-line with the audience's expectations. Make sure to partner with a web design company that has a strong reputation, illustrates marketing experience and is capable of elevating your website to a high-quality marketing asset.
SEO knowledge
Search Engine Optimization is a major consideration. A website is of no good if your target audience can't find it on the search engine. Before you hire a web design company, determine their quality of Search Engine Optimization knowledge. A professional web design company with SEO knowledge ensures that your web design is according to the guidelines of Google and other search engines.
The design of your website is critical to its success. Therefore, give the right design to your site.